Health and Wellness Associates
EHS – Telehealth
Loneliness Kills!   Which puts a dent in your sex life!
Loneliness is a public health risk in the U.S.
Research confirms that emotional isolation ranks as high as smoking when it comes to risk factors that can shorten your life.
This does not mean we are a nation of emotionally immature adults who need to be coddled.
On the contrary . . .
According to longevity expert Dr. Gary Small, our need for intimacy and socialization is hardwired into our brain. This makes the quantity and quality of your social connections crucial to your ability to enjoy a long life.
Long-Lasting Loneliness Doesn't Just Make
You Sick — It Can Actually Kill You
John Cacioppo is a leading psychologist specializing in the study of loneliness. He reports that loneliness not only speeds up death in sick people, but also makes healthy people sick by putting them into a stressful fight-or-flight mode.
You might think that being lonely simply means you are depressed. To be clear, while loneliness can be a symptom of depression, they are not the same thing.
So what does "loneliness" really mean?
Well, experts in the field say loneliness is the state of being socially isolated and deprived of intimacy.
And now, researchers have linked chronic loneliness to numerous physical ailments.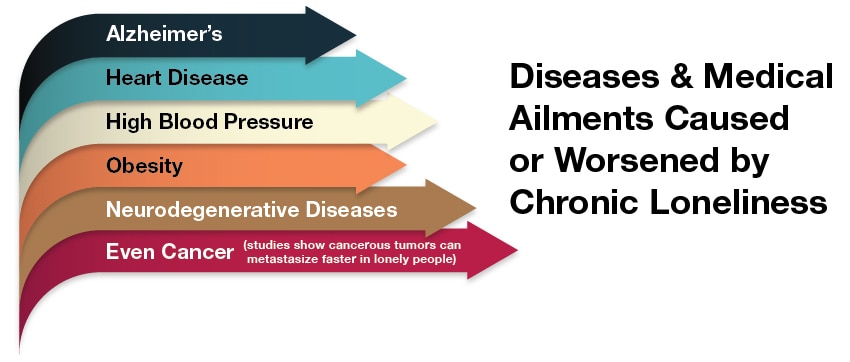 Loneliness Is a Public Health Risk for Our Nation's Seniors
As you might imagine, loneliness is a huge problem for America's older population.
That's because seniors so often lose connections with relatives, spouses, friends, neighbors, and co-workers.
I'm sure you've seen this happen in your own life as you grow older.
Statistics tell us women are lonelier than men, and the retired are lonelier than the employed.
An AARP loneliness study surveyed 3,012 Americans age 45 and older. They found that:
35% of adults 45 and up are lonely.
This means over 42.6 million older adult Americans suffer from chronic loneliness.
Those in poor health are more likely to be lonely.
Those with lower incomes are more likely to be lonely.
A Healthy Sex Life Increases Life Expectancy
As you'll see in special reports, researchers have found that sexual activity causes the release of endorphins and other hormones. This results in additional relaxation and more restful sleep, which boosts brain health.
A healthy sex life not only improves mood — it also raises life expectancy.
One 10-year British longitudinal study found significantly lower mortality rates in men who had more frequent sexual relations.
Sexual feelings lead to the release of DHEA, a hormone that gradually declines after age 30. This hormone bolsters cardiac health, which could explain why more frequent sexual activity results in a longer lifespan.
And for those who are not currently sexually active, Dr. Small shares that simple physical expressions such as hugging can improve your brain and body health, and even reduce blood pressure.
Health and Wellness Associates
Archived
Facebook: https://www.facebook.com/HealthAndWellnessAssociates/
Twitter:
Health and Wellness Associates
@Healtha98410402