Lichen Planus and Lichen Sclerosis: These Conditions May Mimic Yeast Infection or Herpes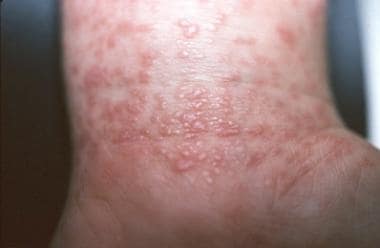 There are several gynecologic conditions that share similar symptoms. Vaginal itching, irritation, burning, and lesions or sores are most commonly associated with yeast infections or genital herpes. But when those two are ruled out, there are even more possibilities. For example, two vulvar skin conditions, called lichen planus and lichen sclerosus, can cause similar symptoms.
What Is Lichen Planus?
Genital lichen planus is a dermatological (skin) condition that affects the vulva (outer genital area), vagina, and anus. In women, the condition can lead to scarring and chronic inflammation of the vulva, which may cause sexual dysfunction, according to Drexel Medicine.  Men can also get genital lichen planus, which shows up as pink, shiny, flat-topped papules in the genital area, according to a 2015 report.
This skin condition can also develop on other areas of the body, such as the inside of the mouth, the wrist, the ankles, and the lower back, according to the American Academy of Dermatology. While the cause of lichen planus remains unclear, it is considered to be a chronic autoimmune skin disorder with periods of flare-ups and remission. It may be contagious, with different variables, so it is always good to be cautious.
What Are the Symptoms of Vulvar Lichen Planus?
According to the American Academy of Dermatology, the following are possible symptoms of lichen planus:
Bumps and patches on the skin that itch
Soreness, burning, and tenderness
Blisters and open sores that may make urination and sexual intercourse painful
Pale appearance or white lacy pattern on the vulva
Yellowish discharge
Fragile and thin vaginal skin, which sometimes causes cracking and bleeding
If left untreated, this skin condition can erode the vaginal skin tissues, especially the labia minora (inner vaginal folds).
It is not difficult to understand how some women may mistake these symptoms for genital herpes (the presence of painful lesions) or some other sort of infection (itching, burning, and soreness).
What Is Lichen Sclerosus?
Lichen sclerosus is another chronic, auto-immune-inflammatory skin disease affecting the genital region that can mimic the symptoms of an infection such as a yeast infection or genital herpes. Lichen sclerosus can occur alongside lichen planus or can develop from erosive lichen planus (where the labia minora shrink and fuse to the labia majora).
What Are the Symptoms of Lichen Sclerosus?
The main symptoms are itching and soreness, according to the NIH. There may be white, shiny patches on the vaginal skin. Some people may have blisters and bleeding in the vaginal area and may notice that their skin tears and bruises easily. Lichen sclerosus can be extremely painful, making sexual intercourse a source of physical distress.
What Are the Risk Factors for Lichen Sclerosus?
As with lichen planus, the cause of lichen sclerosus is unclear, but it may be related to an overactive immune system or hormones, according to the NIH. One study completed in 2008 found that women who have psoriasis may be more susceptible to being diagnosed with lichen sclerosus. It is more common in postmenopausal women as well, according to a report by the Royal College of Obstetrics and Gynecology.
However, because of the similarities to other conditions, such as genital herpes, vaginitis, or yeast infections, some women may not realize they have lichen sclerosus or mistake it for other gynecological problems.
If left untreated, lichen sclerosus can progress and cause serious effects. In rare cases, it's associated with an increased chance of vulvar cancer. About 4 percent of women with lichen sclerosus develop vulvar cancer, according to the American Cancer Society.
How to Get Treatment for These Symptoms
If you are experiencing itching, burning, soreness, bleeding, fissures, thick white patches of skin, or ulcers or blisters in the vulvar area, you should see your gynecologist. Most doctors will be able to diagnose these conditions by doing a vulvar skin biopsy.
Don't try to guess at what these symptoms mean or try to self-diagnose. Many women suffer needlessly from lichen planus and lichen sclerosus because they think it is some sort of recurring yeast infection. Although both of these genital skin conditions can be chronic and without a definitive cure, there is treatment that is extremely effective. An early diagnosis and treatment can prevent pain, scarring, and damage to the vulvar skin and tissues.
While these conditions can't be cured, they can be treated and managed. Cortisone creams have been found to be effective in reducing symptoms. Some people find that over-the-counter antihistamine creams help reduce pain and itching.
We are in this Together!
-People Start to Heal The Moment They Are Heard-
Health and Wellness Associates
EHS Telehealth

WordPress:  https://healthandwellnessassociates.co/